Noise Barriers Manufacturer – Road Noise Barriers, Highway Noise Barriers, Railway Noise Barrier, Metal Noise Barrier, Temporary Noise Barrier, Polycarbonate Noise Barriers, and Sound Absorbing Noise Barrier walls/ Panels India by Envirotech Systems Limited.
Envirotech Systems Limited is a renowned Noise Barrier Manufacturer for Road and Highway, based in India offering a comprehensive range of Noise Barrier solutions across the entire PAN India region. Our seasoned team, backed by years of expertise and a proven track record, stands ready to deliver high-quality noise barrier solutions. With an extensive client portfolio that attests to our prowess in this field, Envirotech is your go-to source for addressing noise-related challenges.
Noise Barriers are designed to absorb or reflect sound, effectively reducing noise transmission from nearby sources. They act as protective walls that shield communities from excessive sound, creating a quieter and more peaceful living environment. The constant flow of traffic on roads and highways can generate significant noise pollution, impacting nearby communities and residents' quality of life. Noise barriers are crucial to mitigate this issue, making roads and highways quieter and more liveable. As a leading manufacturer specializing in noise barriers for road and highway applications, our company is committed to delivering high-quality, effective, and aesthetically pleasing noise solutions.
Our Unwavering Commitment to Quality and Innovation
At Envirotech Systems Limited, we recognize the pivotal role that noise barriers play in improving the well-being of individuals living near busy roadways. Our steadfast commitment to quality and innovation has cemented our position as a trusted name in the industry. We prioritize the development and manufacturing of noise barriers that deliver exceptional performance, all while being visually appealing and environmentally conscious.
Key Attributes of Envirotech Noise Barriers
Exceptional Noise Reduction: Our noise barriers are meticulously designed to effectively reduce noise levels, creating a more serene environment for nearby communities. Through innovative materials and design, we achieve substantial reductions in traffic noise, ensuring that people can enjoy a quieter living space.
Aesthetic Diversity: We understand that noise barriers must seamlessly blend with their surroundings. Envirotech Systems Limited offers a broad range of aesthetic options, including various colors, textures, and finishes. This ensures that our noise barriers can harmonize with the local environment, promoting visual cohesion and community satisfaction.
Eco-Friendliness: Sustainability is a core value at Envirotech Systems Limited. Our noise barriers are constructed using environmentally friendly materials and manufacturing processes. We strive to minimize our environmental footprint and promote a greener future.
Longevity: Envirotech noise barriers are built to endure outdoor exposure and harsh weather conditions. They are designed to be long-lasting, minimizing maintenance costs and ensuring a reliable solution for years to come.
Tailored Solutions: We recognize that every road and highway project is unique. Our team collaborates closely with clients to provide customized noise barrier solutions tailored to their specific needs, ensuring the best possible outcome for each project.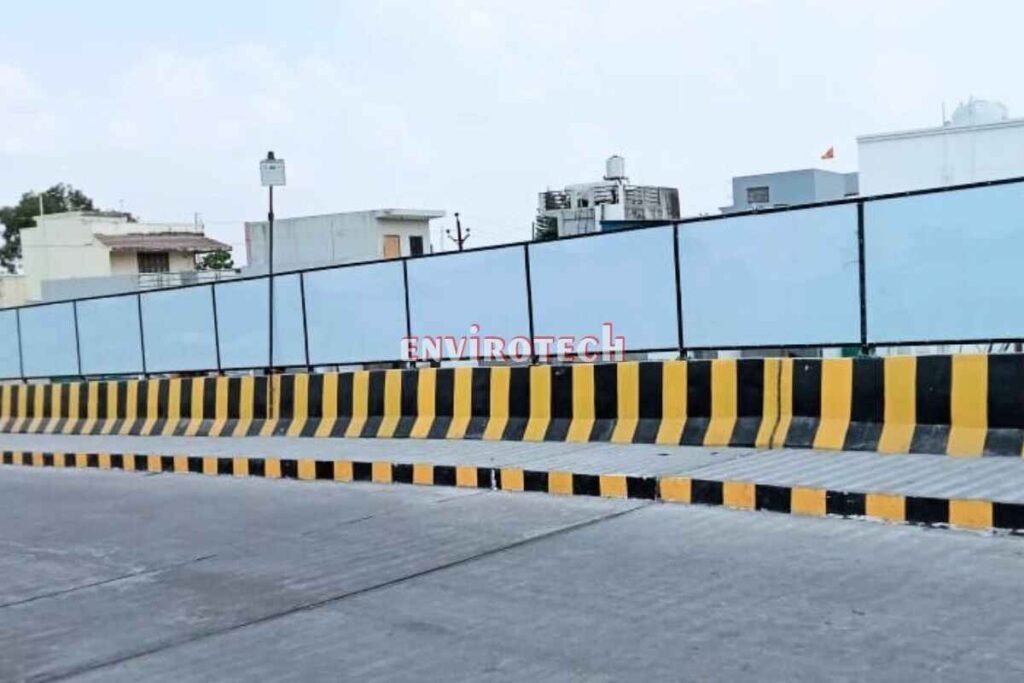 The Envirotech Advantage
Opting for Envirotech Systems Limited as your noise barrier manufacturer for roads and highways affords you several distinct advantages:
Expertise: With years of experience in the industry, we possess the knowledge and expertise needed to tackle even the most complex noise reduction challenges.
Regulatory Compliance: Our noise barriers adhere to local and international regulations and standards, ensuring that your project remains compliant with noise mitigation requirements.
Comprehensive Solutions: Envirotech offers a full suite of services, from design and manufacturing to installation, making the process of implementing noise barriers on your project as streamlined as possible.
Ongoing Support: Our commitment to excellence extends beyond the manufacturing process. We provide ongoing support and maintenance services to ensure the continued effectiveness of our noise barriers.
Sound Fence Panels for Effective Noise Mitigation
Envirotech's Sound Fence Panels are a key component of our noise mitigation solutions. These panels feature a perforated outer material designed to absorb noise effectively. The core of these panels comprises various materials that serve to diffuse incoming sound waves, further enhancing their noise-reduction capabilities. Our Sound Fence Panels are a testament to our commitment to crafting innovative and effective noise barrier solutions. Envirotech is your trusted partner in noise barrier solutions in India, with a strong emphasis on quality, performance, and innovation. Contact us today to explore how our noise barriers can contribute to a quieter, more peaceful environment, making a positive impact on the communities they serve.
Types Of Noise Barrier
Metallic Noise Barrier: This Metallic Noise Barrier is the best way to block any noise. It is an effective way to control the noise that disturbs your life. For those seeking a reliable and long-lasting product, these Noise barriers have been manufactured with the latest technology, and our range is built to last.
Road Noise Barrier: Road noise barriers are designed to mitigate the effects of traffic noise along the highway. Road Noise barriers primarily block the direction of the sound between the source.
Polycarbonate Noise Barrier: Polycarbonate Noise Barrier is the most effective material for noise absorption and helps to ensure a quiet atmosphere. Polycarbonate as a material has superior properties which makes it a preferred material as a noise control barrier. The Polycarbonate Noise Bar is a durable, lightweight, and cost-effective alternative to traditional construction methods.
Temporary Noise Barrier: Temporary Noise Barrier is the perfect solution for your noisy Construction Site Noise Barrier. Designed to be light, portable, and easy to install, our Temporary Noise Barrier will reduce noise from the outside by up to 30 dB. Say goodbye to the need for earplugs, and hello to a quieter work environment.
Railway Noise Barrier: A railway Noise barrier is used between the building and incoming noise like a railway track. It is used for reducing noise pollution in railway stations, parking lots, highways, convention centers, and more. It contains soundproofing insulation and sound absorption material in its panels which helps in eliminating harsh sounds from outside.
Toll Road Noise Barrier: With Toll Road Noise Barrier, you can finally enjoy your drive. This simple and cost-effective solution is a fraction of the price of other products on the market to stop noise from car engines and traffic from disrupting your driving experience. Stop wondering if you're going to be able to enjoy your favorite radio show or podcast when you're on a long road trip again with this anti-noise shield.
Construction Site Noise Barrier: This Noise Barrier is the perfect solution for Construction sites. These barriers significantly reduce noise from construction sites near residential areas and make your life easier in the process.
Flyovers Noise Barrier: The Flyovers Noise Barrier is a new product that offers a solution to the problem of noise pollution created by overpasses. The barrier is made from a Polycarbonate sheet. It can be used for new construction or as an add-on for existing flyovers and offers a cost-effective, yet very effective solution to the problem of noise pollution.
Noise Barrier for Power Plants: Noise Barrier for Power Plant is a product that reduces noise pollution in the environment. We made it to help reduce some of the harmful effects of noise pollution, such as stress, anxiety, and sleep disturbances. Our Noise Barrier for Power Plant provides insulation from noise and sound by using fabric to block sound waves from entering your home or workplace. It is ideal for home theatres and offices where a lot of people might be gathering.
Noise Barrier for Machine: Our Noise Barrier for Machine is an innovative design that reduces noise levels by up to 25 dB. The barrier is easy to install and fits a wide variety of machines. It's made of high-quality material and also protects operators from harmful shocks.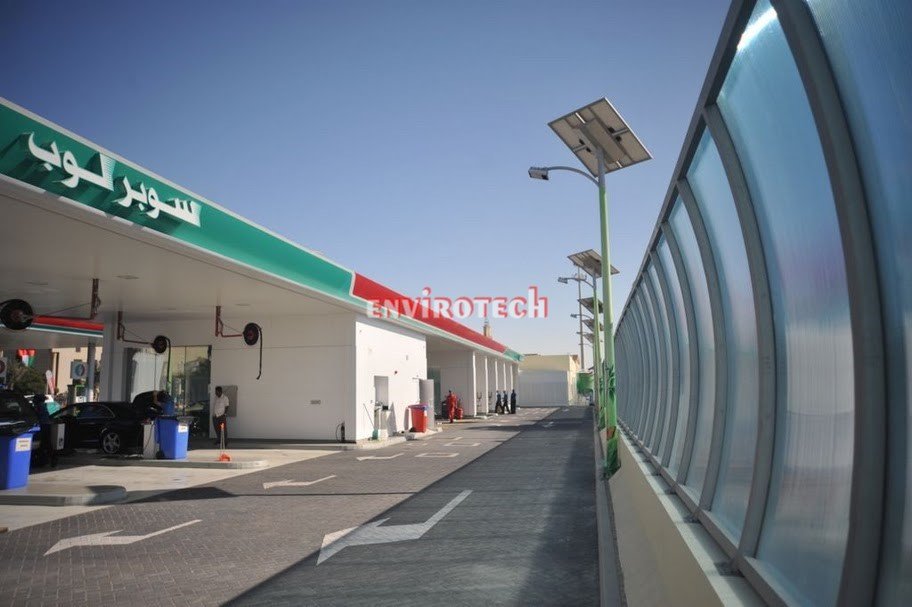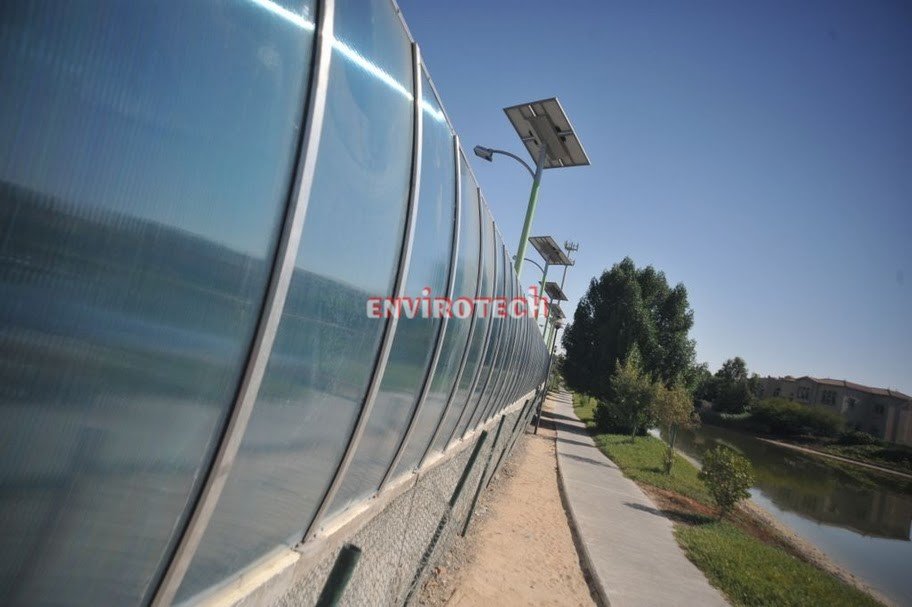 ---
Send Inquiry For Noise Barrier