Envirotech Introducing Quality product from Echo Barriers. The Echo Barrier is a portable acoustic barrier that offers excellent noise reduction and absorption. Effective in the harshest environments. The ECHOBARRIER is durable, lightweight, water, fire, UV, and temperature resistant.
Envirotech proudly introduces the ECHO BARRIER H9, a revolutionary noise control solution tailored for construction sites, even amidst rugged outdoor conditions, with the added benefit of reusability. Recognized worldwide as a portable noise control device, the ECHO BARRIER H9™ sets a new standard for excellence.
The ECHO BARRIER H9™ reimagines portable acoustic barriers, offering outstanding noise reduction and absorption. It remains highly effective in challenging environments, boasting both durability and lightweight design. Moreover, it demonstrates remarkable resistance to water, fire, UV radiation, and extreme temperatures, ensuring longevity and optimal performance.
Envirotech presents the cutting-edge ECHO BARRIER H9™ – a next-generation noise control solution. Crafted for construction sites, even in challenging outdoor conditions, this lightweight and efficient noise barrier sets new standards. Globally recognized, the ECHO BARRIER offers portable noise reduction.
Experience the versatility of the ECHO BARRIER H9™ – a portable acoustic marvel, excelling in noise reduction and absorption. Its durability shines in harsh environments, remaining lightweight while resisting water, fire, UV, and temperature extremes.
Distinguishing itself from mere sound reflection, the ECHO BARRIER Noise Control System actively absorbs sound energy, making it vital for enclosed structures. Lab tests validate up to 43dB noise reduction, with real-world use achieving 15-32dB reduction. This translates to an extraordinary 95%-99.99% sound energy reduction, delivering a remarkable 60-88% perceived noise reduction to the human ear.
Key Benefits:
ECHOBARRIER patented Acoustic technology, offers noise reduction between 15 to 32 dB in field conditions.
H9 Barrier panels are readily fitted onto standard fencing, perimeter fencing, plywood fencing, metal panels, scaffolding or any existing structure that can bear the increased load.
Light in weight (2-2.5 kg/m2).
Safe to handle, no hazardous material can be fitted with reflector strips for dark areas.
Do not absorb water when exposed to heavy rain or while jet-washed.
Rugged PVC exterior and heavy-duty eyelets/grommets, designed for durability under tough conditions.
---
Related Products:
Construction Site Noise Barrier
Polycarbonate Noise Barrier
Temporary Noise Barriers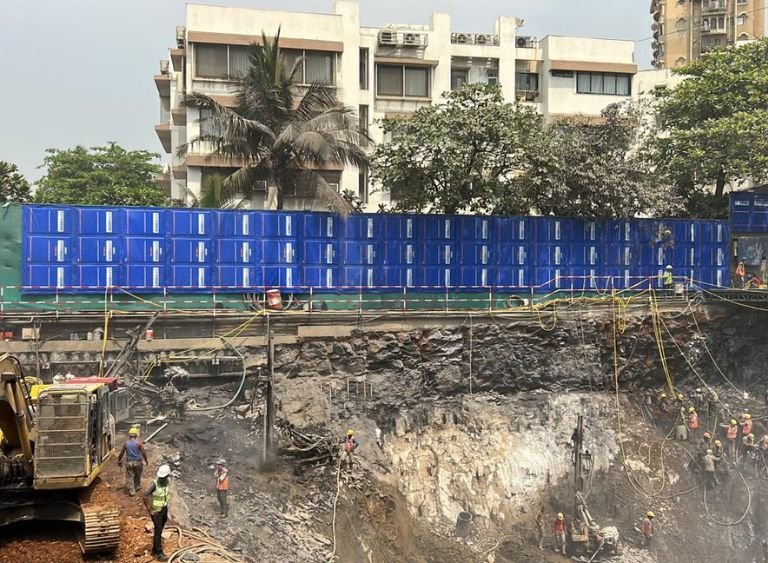 Railway / Metro Noise Barriers