Envirotech Systems Limited, a leading manufacturer and supplier, is proud to present innovative Construction Noise Barriers designed to revolutionize the acoustic environment in Mumbai. Construction noise barriers, often referred to as sound barriers or acoustic barriers, are structures designed to reduce the impact of noise generated by construction activities on the surrounding environment, particularly in densely populated urban areas like Mumbai. These barriers are essential to maintain a reasonable quality of life for residents and minimize the disturbance caused by construction work.
The construction of noise barriers in Mumbai, or any urban area, is a complex process that involves technical, regulatory, and community aspects. It is essential to work closely with relevant authorities, experts, and the local community to ensure a successful implementation that reduces noise pollution effectively. After the construction of the noise barrier, monitor its performance and conduct periodic noise level measurements to ensure that it is effectively reducing noise as intended. Make any necessary adjustments if the barrier is not meeting the required standards.
Challenges of Urban Development
Mumbai's expansion and modernization rely heavily on construction activities, including residential and commercial projects, infrastructure development, and transportation initiatives. While these projects are essential, the noise generated during construction can have a significant impact on the quality of life for the city's residents, leading to disturbances, stress, and potential health issues.
Envirotech Systems Limited: Leaders in Acoustic Solutions
Envirotech Systems Limited is a well-established name in the acoustic solutions industry. With a strong track record of providing innovative sound control products, we are dedicated to creating a quieter, more peaceful urban environment. Our construction noise barriers are at the forefront of mitigating noise pollution during construction while ensuring safety and efficiency.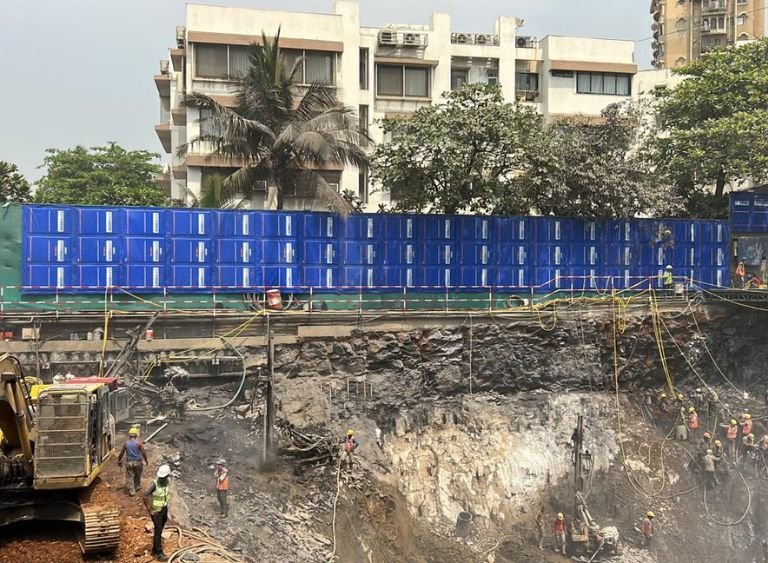 Key Features of Envirotech's Construction Noise Barriers
Our construction noise barriers are meticulously designed to meet the unique requirements of construction projects in Mumbai:
Effective Noise Reduction: Envirotech's barriers significantly reduce noise levels, creating a quieter environment around construction sites. This is achieved through advanced acoustic materials and expert engineering.
Noise Assessment: Conduct a thorough noise assessment of the construction site to understand the specific noise sources and levels. This assessment will help you determine the height, length, and design of the noise barrier required to mitigate the noise adequately.
Construction: The construction of noise barriers should be done by following safety and environmental standards. In densely populated cities like Mumbai, construction can be challenging, and coordination with local authorities and residents is crucial to minimize disruption.
Safety and Durability: Our barriers are built to withstand the demanding conditions of construction sites, prioritizing worker safety and product longevity.
Customization: We recognize the distinctiveness of each construction project. Our noise barriers can be customized to fit specific site requirements, offering flexibility and adaptability.
Aesthetic Appeal: Envirotech's barriers not only serve a functional purpose but also consider the visual aspect. They can be designed to blend seamlessly with the surroundings, minimizing the visual impact.
Regulatory Compliance: Our products meet or exceed noise pollution control regulations, ensuring your project complies with local standards.
Quick Installation: Designed for swift and straightforward installation, our barriers minimize project downtime.
Benefits of Envirotech's Construction Noise Barriers
Choosing Envirotech Systems Limited for noise control in construction offers numerous advantages:
Enhanced Quality of Life: Residents near construction sites will experience minimal noise disturbances, leading to improved well-being.
Legal Compliance: Ensure adherence to regulatory requirements for noise pollution control.
Productivity: Reduced noise fosters a more focused and efficient workforce.
Environmental Responsibility: Our solutions are eco-friendly, aligning with sustainable construction practices.
Community Relations: Improve community relations by demonstrating a commitment to noise pollution mitigation.
Envirotech Systems Limited is committed to delivering advanced construction noise barriers that have the potential to enhance Mumbai's acoustic environment significantly. By choosing our solutions, you not only meet regulatory standards but also display your dedication to the well-being of Mumbai's residents. Together, we can contribute to a quieter, more harmonious Mumbai. Contact us today to discover more about our construction noise barriers and how they can benefit your project. Noise barriers can be made from various materials, including concrete, wood, steel, or specialized acoustic panels. The choice of material and design depends on factors such as the location, aesthetic requirements, and the noise level to be reduced.
---
Send Inquiry For Noise Barrier